If you're on the lookout for a tasty dessert that's perfect for fall, look no further than apple ice cream! Made with just a few simple ingredients, this creamy, spiced treat is sure to satisfy your sweet tooth.
First up, we have an easy spiced apple ice cream recipe from Julie Blanner. The secret ingredient? Apple butter! This recipe only requires three ingredients, making it a quick and easy option for any busy weeknight.
Easy Spiced Apple Ice Cream
Start by gathering your ingredients:
2 cups heavy cream
1 can sweetened condensed milk
1 cup apple butter
1 tsp cinnamon
1/4 tsp nutmeg
In a medium mixing bowl, combine the heavy cream, sweetened condensed milk, apple butter, cinnamon, and nutmeg. Whisk until everything is fully combined and the mixture is smooth.
Pour the mixture into a baking dish, cover with plastic wrap, and freeze for at least six hours, or until the ice cream is fully frozen. Serve with a drizzle of caramel sauce and a sprinkle of cinnamon for an extra special treat.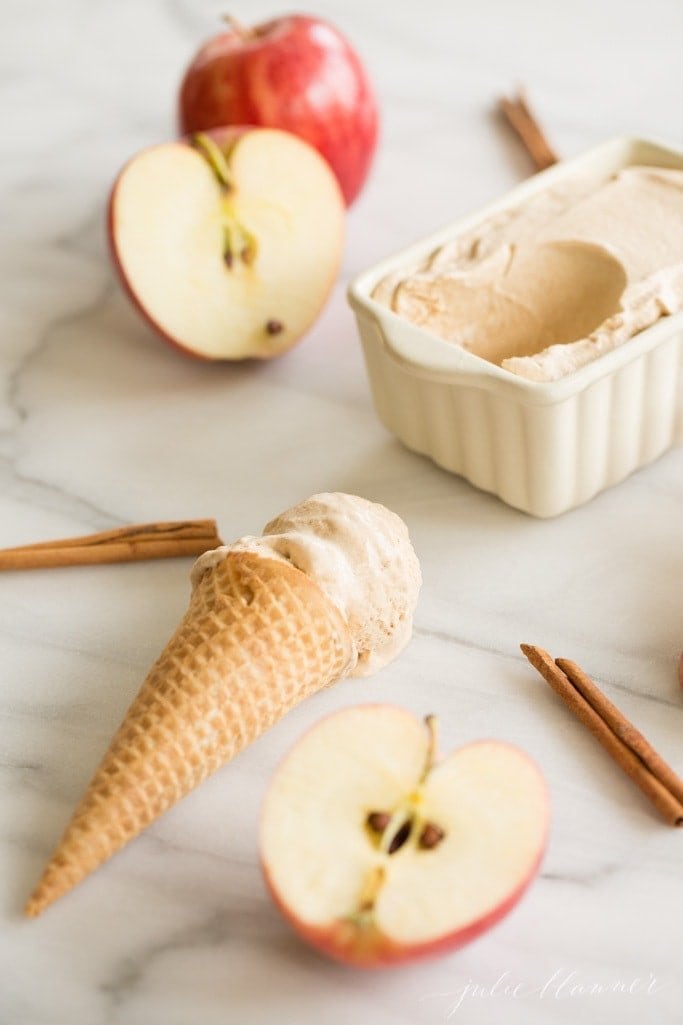 While apple butter is certainly a unique ingredient, it's not the only way to make apple ice cream. In fact, our next recipe from Creamish takes a more traditional approach by using fresh, juicy apples.
Apple Ice Cream
To make this apple ice cream recipe, you'll need:
6 apples, peeled and chopped
2 cups heavy cream
1/2 cup sugar
1 tsp vanilla extract
1 tsp cinnamon
Start by simmering the chopped apples in a saucepan with a splash of water until they're soft and tender. Remove from heat and let cool to room temperature.
In a separate mixing bowl, whisk together the heavy cream, sugar, vanilla extract, and cinnamon until fully combined.
Puree the cooled apples in a blender or food processor until smooth, then fold them into the heavy cream mixture.
Pour the mixture into a freezer-safe container and freeze for at least six hours, or until the ice cream is fully frozen. Serve with a sprinkle of cinnamon and some chopped toasted pecans for a tasty garnish.
Ideas for Personalizing Your Apple Ice Cream Recipe
If you're feeling adventurous, there are plenty of ways to get creative with your apple ice cream recipe. Here are a few ideas to get you started:
Try mixing in some caramel sauce and chopped up apple pie filling for a delicious, comforting twist on apple ice cream.
For an extra bit of crunch, try adding some candied pecans or walnuts to your finished ice cream.
If you prefer a softer, creamier texture, try churning your ice cream with an electric ice cream maker instead of freezing it in a dish.
How to Store Your Apple Ice Cream
If you have any leftover apple ice cream (although we doubt you will!), it's important to store it properly to maintain its texture and flavor. Here are a few tips:
Transfer your ice cream to an airtight container with a lid, like a Tupperware container or a Ziploc bag.
Place the ice cream in the farthest corner of your freezer, away from any sources of heat or light that could cause it to melt prematurely.
If you're storing your ice cream for more than a day or two, consider placing a piece of plastic wrap directly on the surface of the ice cream to prevent ice crystals from forming.
Conclusion
Whether you prefer the spiced, creamy goodness of apple butter ice cream, or the tangy, fresh flavor of apple and cream ice cream, there's no denying that apple ice cream is a delectable dessert that's perfect for fall. With a few simple ingredients and a bit of creativity, you can easily make this delicious treat at home and impress your guests (or your taste buds!).
If you are looking for Apple Ice Cream Recipe | Let's Take the Humble Apple to a New Level you've visit to the right web. We have 2 Pictures about Apple Ice Cream Recipe | Let's Take the Humble Apple to a New Level like Apple Ice Cream Recipe | Let's Take the Humble Apple to a New Level, Easy Spiced Apple Ice Cream | 3 Ingredient Apple Butter Ice Cream and also Easy Spiced Apple Ice Cream | 3 Ingredient Apple Butter Ice Cream. Here it is:
Apple Ice Cream Recipe | Let's Take The Humble Apple To A New Level
www.creamish.com.au
apple ice cream recipe
Easy Spiced Apple Ice Cream | 3 Ingredient Apple Butter Ice Cream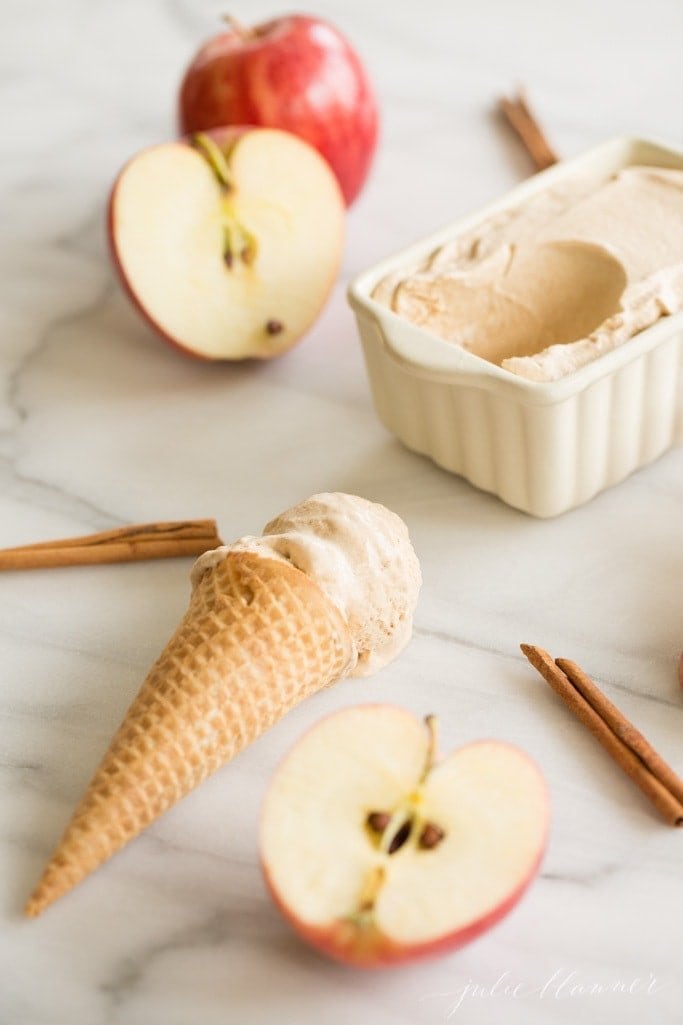 julieblanner.com
spiced apples crystallization forms
Spiced apples crystallization forms. Apple ice cream recipe. Easy spiced apple ice cream